Guide Training Recap
Our 2016 Spring Mountain Guide training is in the bag! After a long and productive week, it seems appropriate to reflect, and offer up some thoughts on the experience.
As it turns out, Google Analytics is good for something. One of the most visited pages on bakermountainguides.com is our About Page – and rightfully so. Our clients want to know who they are going to be climbing or skiing with. When you choose a guide service, you aren't so much hiring a guide service as you are hiring a specific guide. Ideally that guide has been vetted, and reflects the culture and standards of the organization he or she works for.
In the United States, the American Mountain Guides Association (AMGA) provides 3rd party training and certification for mountain guides. The process is rigorous, and full certification (IFMGA) requires tens of thousands of dollars as well as a multi-year commitment. However, in the US, certification is not a requirement for employment. Often the best guides have a combination of AMGA training/certification as well as hands-on experience and mentorship.
AMGA Guide Training Disciplines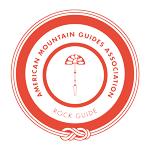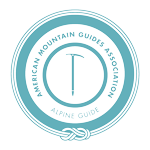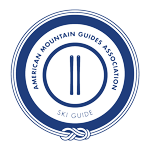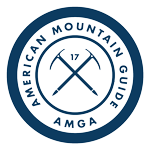 At Baker Mountain Guides we specifically hire guides who have a proven commitment to AMGA training and certification. All the guides that we employ regularly are either pursuing or currently hold a certification through the AMGA. Additionally, we offer Continuing Professional Development Credits to assist guides with AMGA tuition.
However, it's also important for guides to understand who we are as an organization, and what our expectations are. Our in-house guide training provides us with the opportunity to orient guides to our operation, refresh and assess critical skills, and provide valuable feedback to help our guides develop in their profession. This year's training involved 5 days of field time in both rock and alpine environments with Lee Lazzara – our senior IFMGA guide and guide trainer.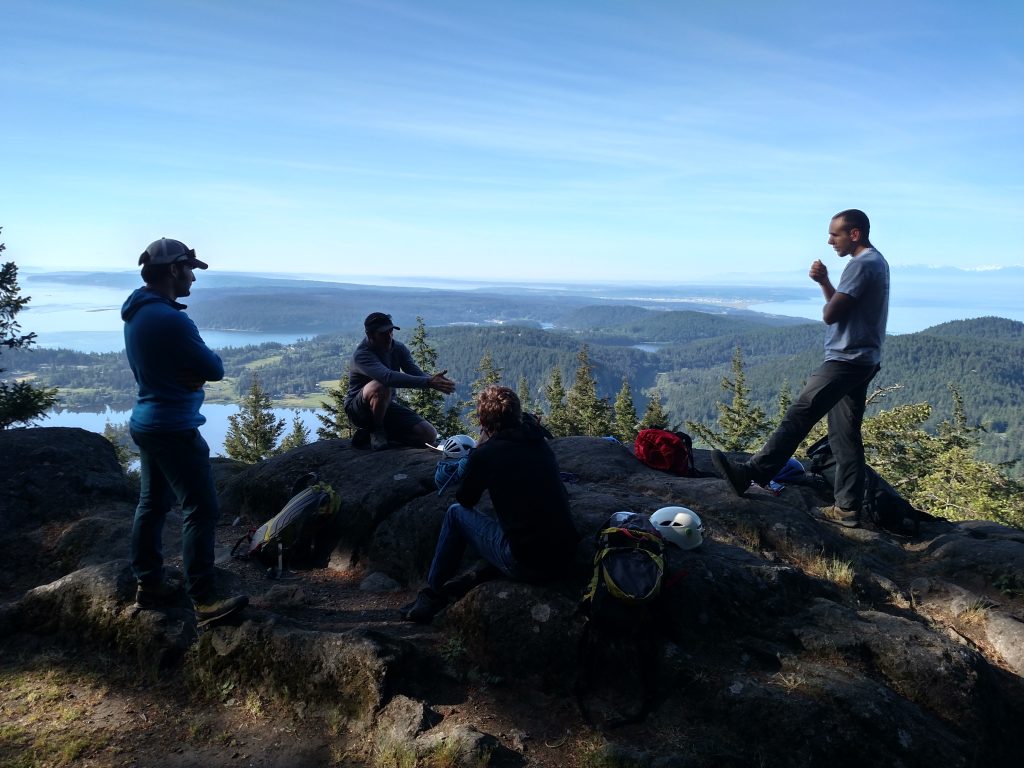 Lee works with several well-respected organizations, and guides in Europe during the summer months. He also runs a guide training for several Northwest Guide Services. He designed a Baker Mountain Guides training program to cater to our specific needs. Again, the purpose wasn't to teach our guides how to guide – that is better left to the AMGA – but to teach them how we would like them to guide in the terrain that we most commonly operate in: Mount Baker.
Our guide training fell into the context of client care and risk management. Objectives included short roping on both rock and snow, which is a professionally oriented technique not common among recreational groups. Much attention was paid to alpine transitions as well, which is essentially the art of moving between different rope systems and guiding techniques based on terrain and hazards. The program finished with both crevasse and rock rescue refreshers.
As always, Mount Baker was an excellent training environment. Ironically, we chose not to summit Baker, but opted for the East Ridge of Colfax instead. The East Ridge of Colfax is a more challenging objective that forces guides to think outside the box. The Coleman Deming route on Mount Baker would have been a better preview of a common route that we guide, but we are less concerned with our guides knowing a specific route, and more concerned that they have the skills to manage hazard and guide effectively in any terrain that they encounter.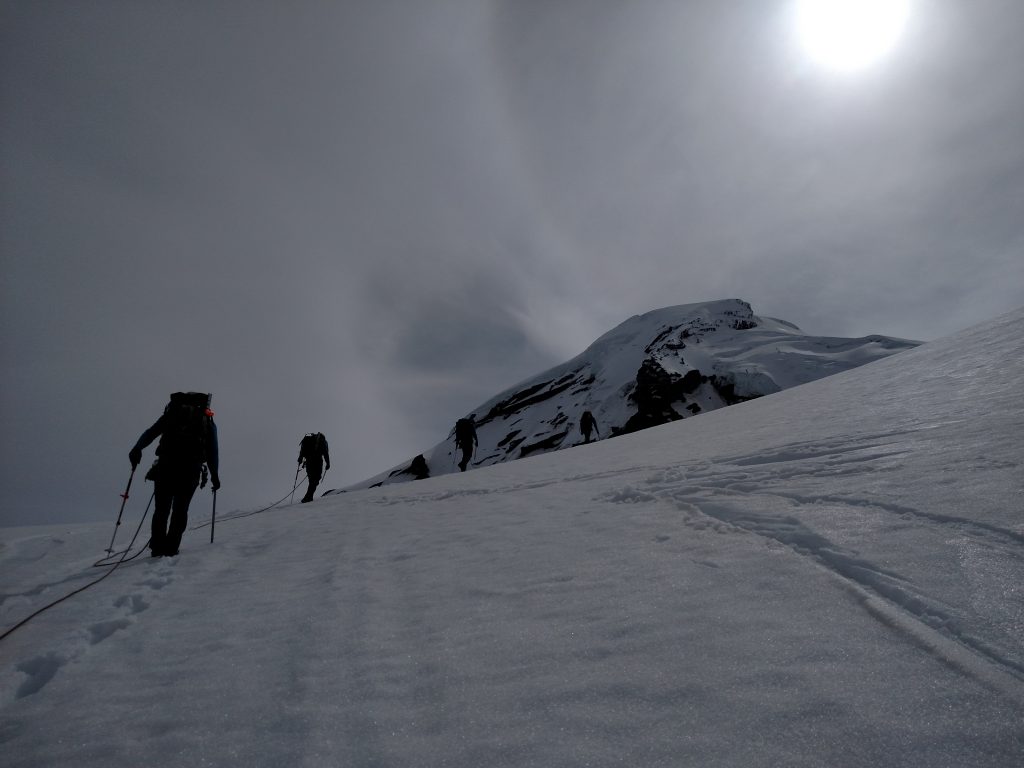 We finished up on Baker with a Crevasse Rescue refresher where we reviewed professional level techniques. Any guide in any glaciated terrain should be very comfortable performing crevasse rescue. Terrain assessment, hazard ID/mitigation, and client care are areas where all guides can improve, however anything less than full fluency in crevasse rescue is unacceptable.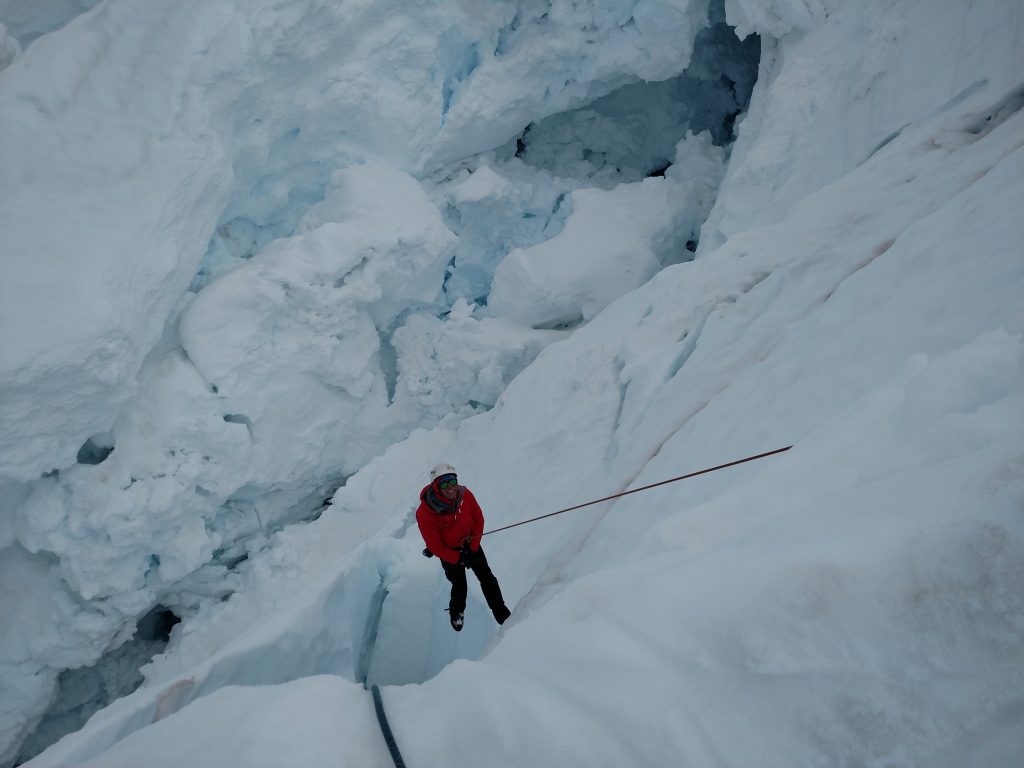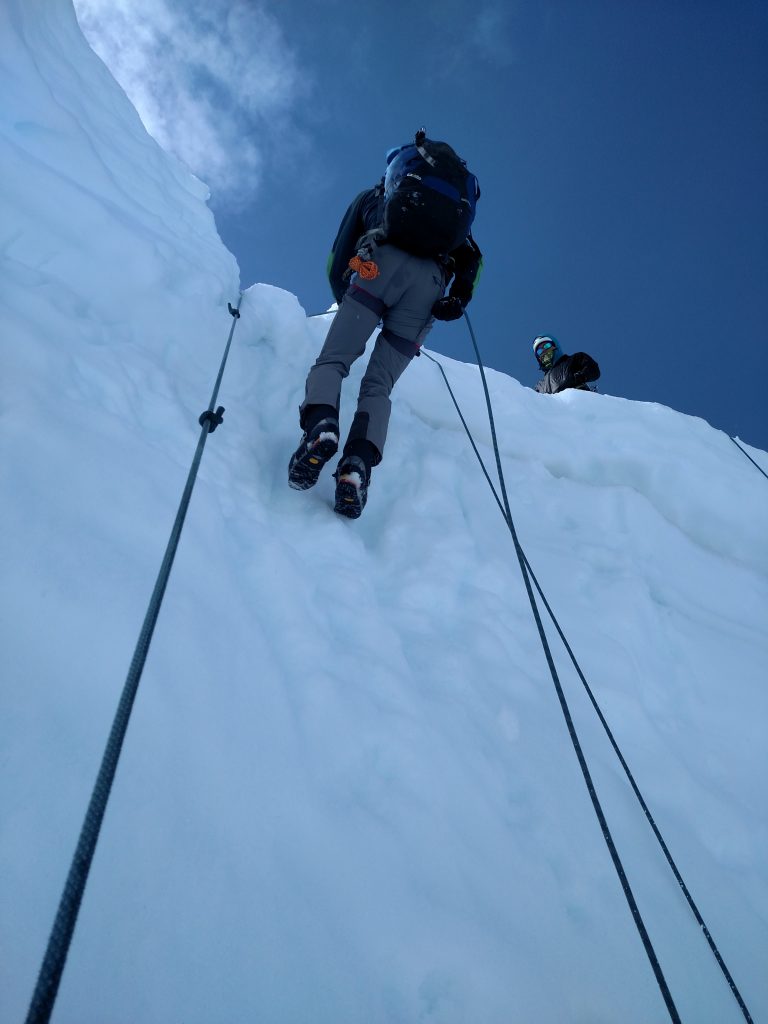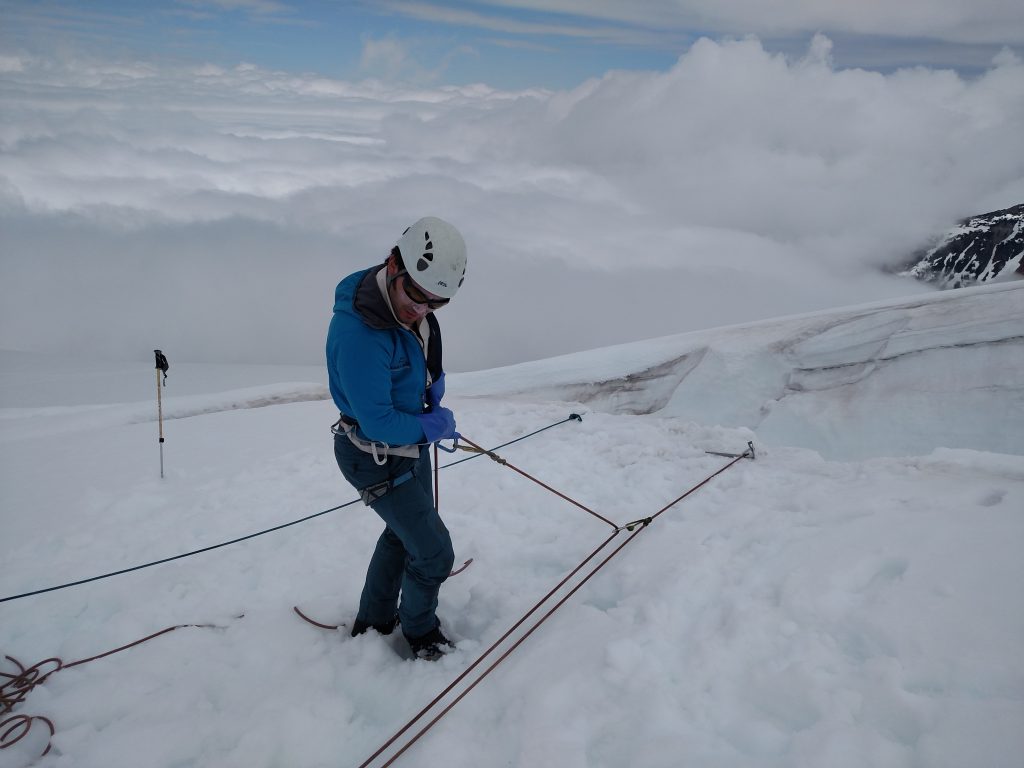 Our Baker days were sandwiched between two sessions on the cliffs at Mount Erie in Anacortes, where we covered short roping on rock, alpine transitions, and rock rescue. The rock rescue drill that we practice prepares guides to evacuate an injured climber from a vertical environment. This situation is rare, however, working through the challenges of rock rescue prepares guides for problem solving in any technical rope system. Again, the purpose is not to teach a specific drill, but to prepare guides for any terrain or situation they may find themselves in.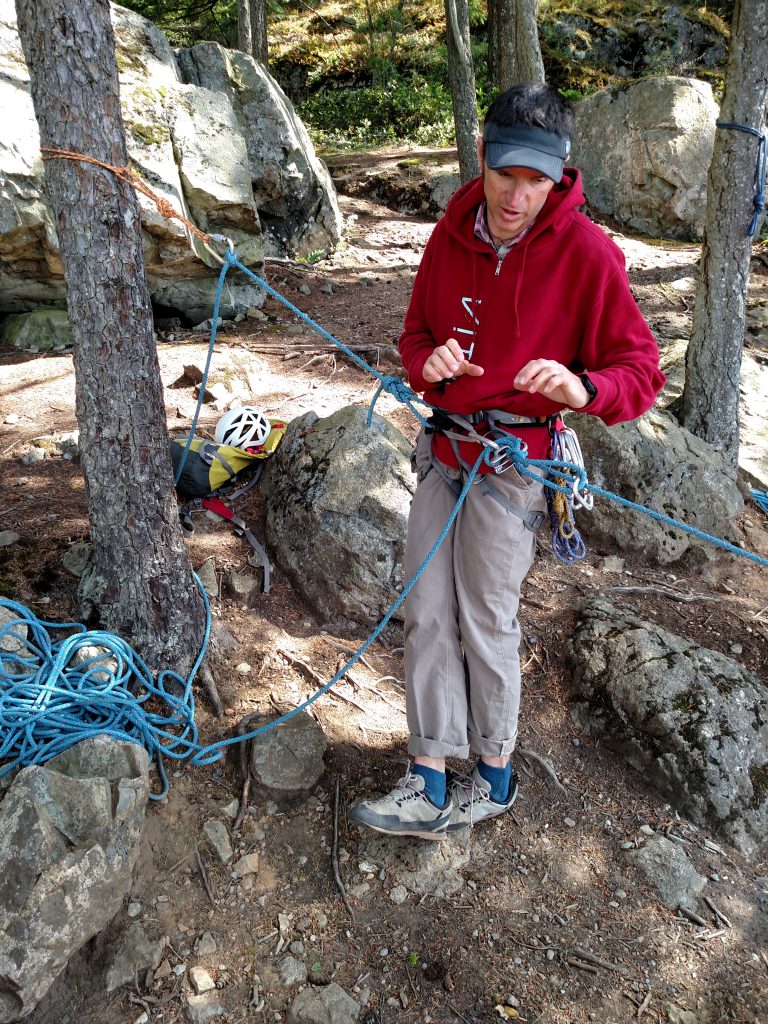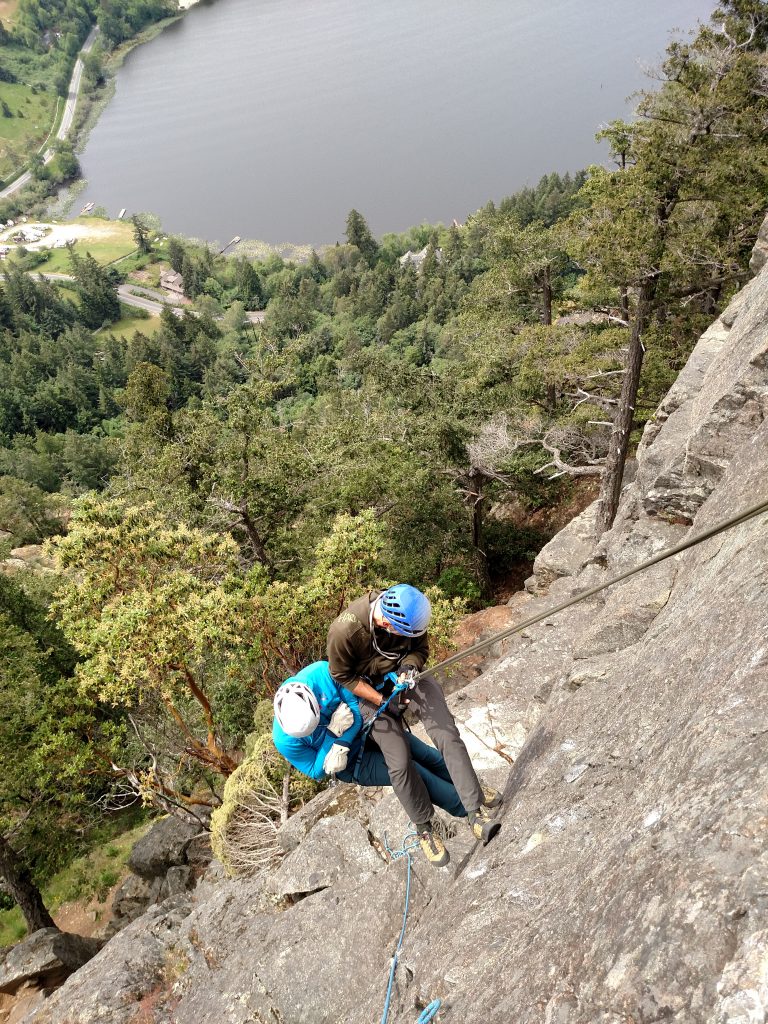 The result is a team that is well indoctrinated not only to Baker Mountain Guides terrain, but to our culture as well. Training is an important aspect of professionalism in our industry, and all our guides are qualified to operate in the terrain in which they are guiding. Hopefully this post provides some insight into the inner workings of our industry, as well as our approach to pedagogy. These are concepts that we carry over into our guided trips and instructional courses as well. We invite you experience the Baker Mountain Guides difference, and climb with a member of our fantastic crew!