---
We Are Baker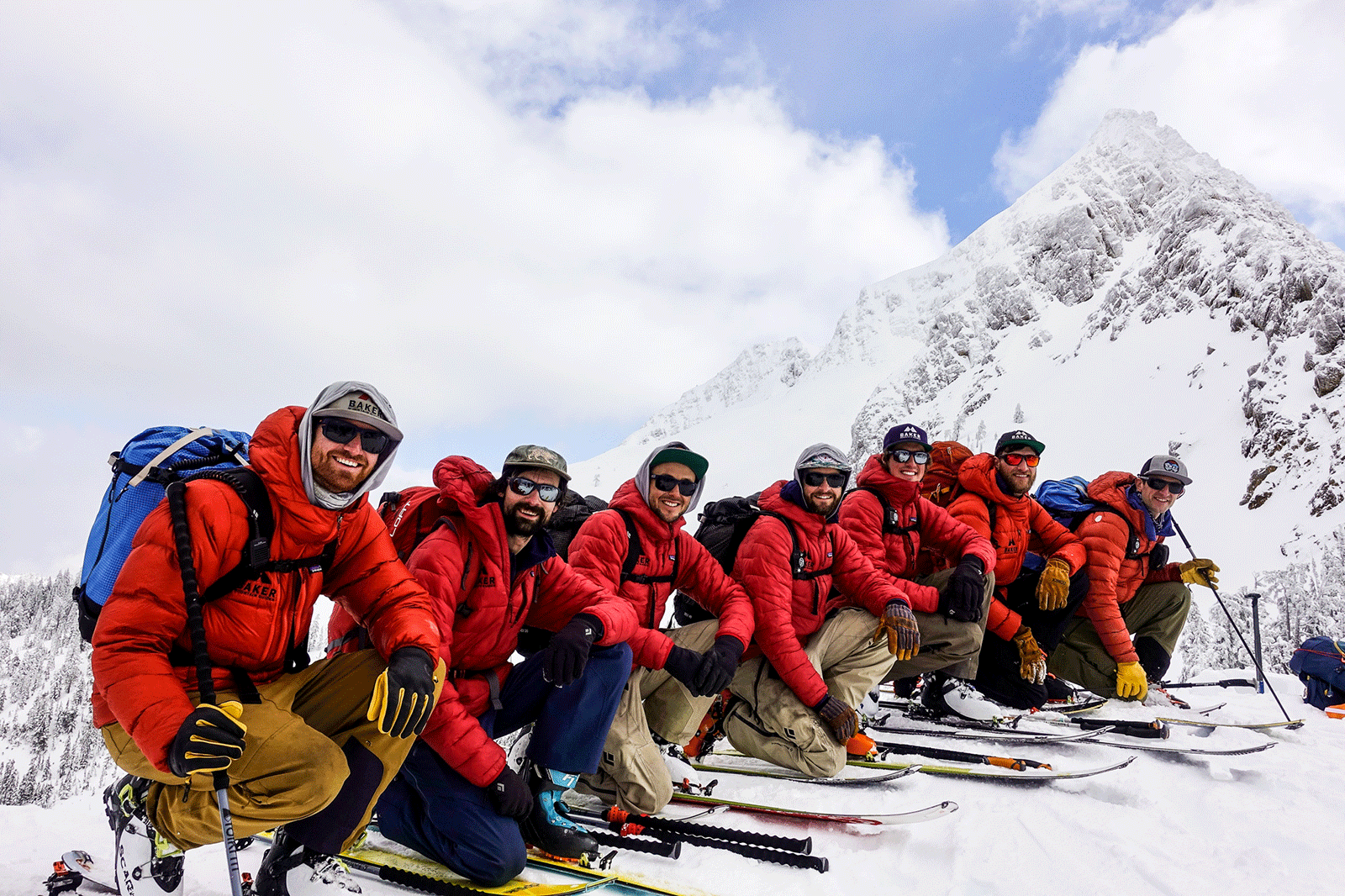 Baker Mountain Guides is a family owned and operated company based in Bellingham, WA. This is a region marked by serrated peaks, immense glaciers, and the world's most abundant snowfall. It's a backdrop that practically cries out for adventure. At Baker, we make that adventure possible.
In both our adventures and courses, our focus is always on you, our guest. Our deep, local knowledge and flexible approach enable us to personalize your trip for a truly unique experience. Beyond adventure, we give you the opportunity to make unexpected and inspiring discoveries—both on the mountain and within yourself.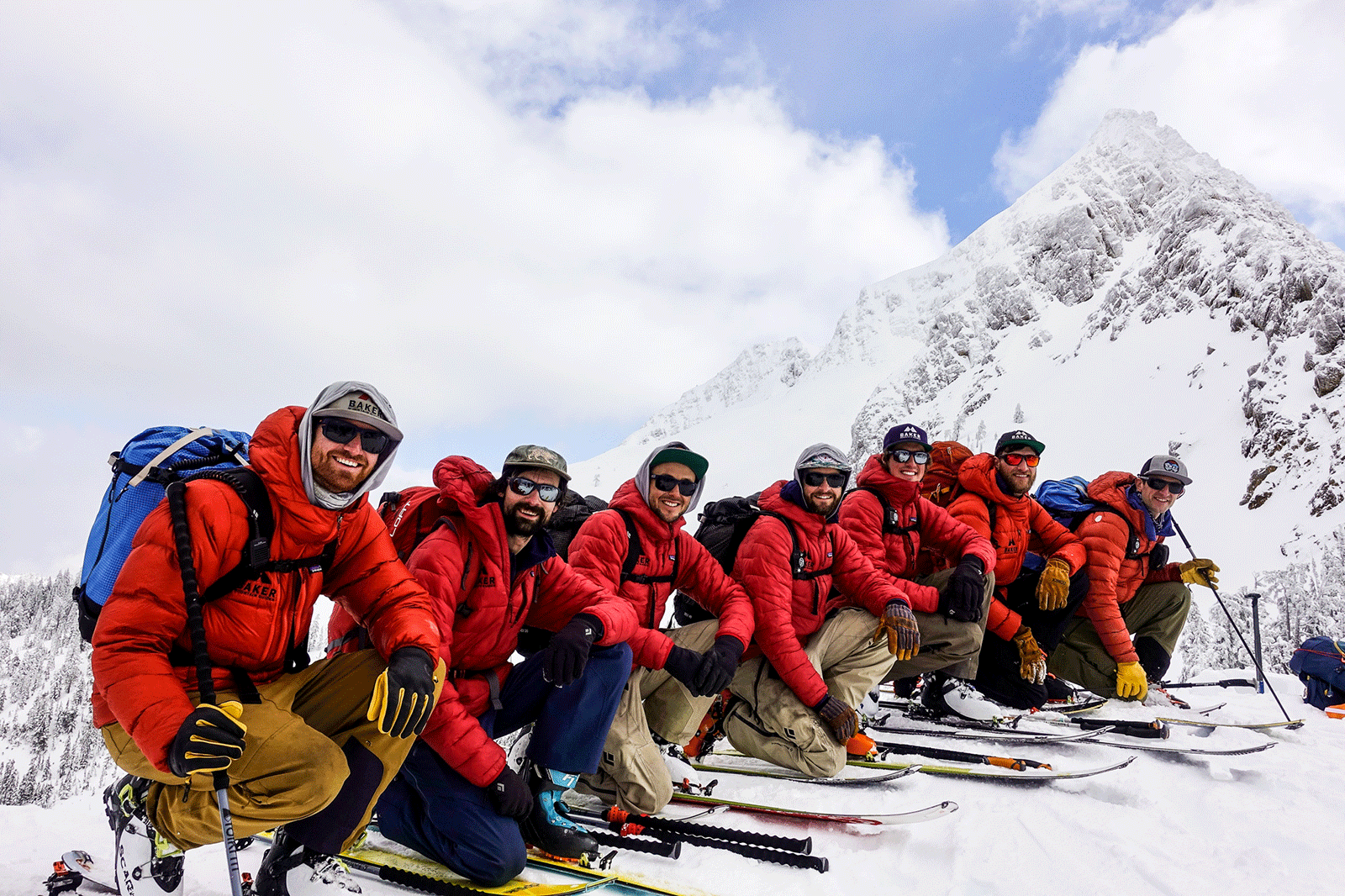 ---
Our Values
Wisdom

Our depth of experience is leveraged through practical insight and understanding.

Reliability

We can be counted on to make good on our commitments—and beyond—without fail.

Flexibility

We are dynamic and accommodating, quickly adapting to changing needs and conditions.

Courage

We are confident in our abilities and exhibit bravery in the face of danger.

Empathy

We have compassion for those we serve, and assist them however needed.

Stewardship

We are obligated to act responsibly regarding the environment in which we work.
---
Beyond Adventure
Baker Mountain Guides creates meaningful life experiences for those we serve through guided mountain adventures and courses centered on safety and environmental stewardship.
---
Our Guides
John Minier
John Minier is Owner and Lead Guide at Baker Mountain Guides. Originally from Alaska, he has a deep appreciation for wild and mountainous places. After moving to the lower 48 some 20 years ago, his passion led him to guiding and outdoor instruction. Since 2004, he has worked across the western U.S. as a rock guide, alpine guide, ski guide, and avalanche instructor. John eventually ended up in Bellingham, where he is right at home at Mt. Baker and the world's deepest snowpack.
Credentials
AMGA Certified Ski Guide
AMGA Certified Single Pitch Instructor
AIARE Level 3 Avalanche Certified
AIARE Avalanche Course Leader
Wilderness First Responder
Leave No Trace Trainer
Kyle Dungan
Kyle Dungan has been privileged to share in a number of memorable experiences in the mountains, from skiing in the Cascades and the Alps, to exploring quieter regions of Central Asia and Alaska. A passion for learning and sharing his experiences with good company is what fulfills him when exploring the backcountry.
Credentials
AMGA Certified Single Pitch Instructor
AIARE Level 3 Avalanche Certified
AIARE Avalanche Course Leader
Wilderness First Responder
Leave No Trace Trainer
Matt Sellick
Matt grew up in Ohio and went to college in Washington where he quickly discovered climbing. He stayed west after school pursuing a career in mountain guiding. Matt sees mountain travel as the locus for his passions of climbing, wellness, and adventure. He enjoys photography, fly fishing, cooking, and reading when he is recovering for the next climb. Matt is currently pursuing certification as a full IFMGA Mountain Guide.
Credentials
AMGA Certified Rock Guide
AMGA Certified Single Pitch Instructor
AIARE Certified Avalanche Pro 2
AIARE Avalanche Course Instructor
Wilderness First Responder
Nick Vincent
After a short stint in corporate America, Nick "Vince" Vincent moved to Vail, Colorado and embraced the life of a ski bum. Seeking quality time in the mountains, he soon found himself as an intern at the Colorado Outward Bound School. After 7 seasons as an instructor, staff trainer, and semester proctor at COBS, Vince transitioned into guiding, with backcountry skiing and avalanche education being his passion and focus. Vince now calls Bellingham home and is excited to share the Cascades with his clients. Learn more about Vince HERE.
Credentials
AIARE Level 3 Avalanche Certified
AIARE Avalanche Course Leader
Wilderness First Responder
Gregg Oliveri
Gregg Oliveri has climbed extensively throughout both North and South America, and has participated in expeditions to Nepal, India, China and Pakistan. Guiding work has taken him to Canada, Mexico and Nepal. Gregg spends his weekends and holidays backcountry skiing and exploring the Cascades and mountains of British Columbia. Gregg's degree in exercise science underpins his deep interest in athletics and performance. He has a great enthusiasm for learning, teaching and for passing knowledge on to his students.
Credentials
AIARE Pro 1 Avalanche Certified
AIARE Avalanche Instructor
Wilderness First Responder
Jenni Minier
Owner
Jenni brings a blend of owner, guide, mom, and mystic to the Baker Mountain Guides family. Her background in environmental science and natural resource conservation fuels her drive to bring conservation and recreation to the same table. She is currently exploring the boundaries of the human relationship with recreation and what that might bring to our experience in the backcountry and beyond. Learn more about Jenni HERE.
Derek Esposito
Derek developed an early love for the mountains growing up hiking and skiing in the Adirondacks. Then he juggled work as a NOLS climbing and mountaineering instructor with a career in the solar industry. For the past few years, Derek was guiding year round in Colorado's San Juan Mountains while also guiding trips up big mountains in Nepal, Ecuador, and Alaska. Now living in Bellingham, Derek is stoked to be growing roots in the PNW!
Credentials
AMGA Certified Single Pitch Instructor
AIARE Certified Avalanche Pro 1
Wilderness First Responder
Leave No Trace Trainer
Julie Ann Holder
An early love of rock climbing amidst steep southeastern sandstone led Julie Ann down a long and winding road of mountainous explorations, where she eventually came to land amongst the snowy peaks of the North Cascades. An educator by passion and a guide by nature, Julie Ann is no stranger to the nuances of glaciers, rocky ridgelines, year round off-trail travel, or big days on her feet. She's a total snow nerd when it comes to avalanche science and has a real soft spot for technical ropework. However, more than any of that, she offers her presence to this work through active attention, mindful listening, embodied compassion, and practices of gratitude. Julz will forever be a student to the world around her, and in this way, she offers her guidance from a genuine place of curiosity and understanding.
Credentials
AMGA Aspirant Rock Guide
AMGA Aspirant Alpine Guide
AMGA Aspirant Ski Guide
AMGA Certified Single Pitch Instructor
AIARE Professional Level 2 Avalanche Certified
AIARE Avalanche Course Instructor
Wilderness EMT
Leave No Trace Master Trainer