Backcountry Skiing Skinning Techniques
Backcountry skiing is much more enjoyable once you understand how the equipment works and the skinning techniques that maximize your gear's potential. This post walks you through some general skinning techniques, uphill techniques, and transitions.
General Techniques
Baby Steps
Unless you're traveling on relatively flat terrain where you can get good glide, taking small steps will be much more efficient and easier on your body. Melanie Bernier explains in the video below.
---
Stand up Straight
As much as possible, try to stand up straight as you skin — especially on the uphill. If your weight gets too far forward, you're more likely to slide out and fall backwards.
---
Risers
When to use risers is a hot topic. In general, risers have pros and cons that should at least be understood so you can hopefully use them when appropriate. IFMGA Mountain Guide Margaret Wheeler explains in the video below.
---
Uphill Techniques
Rounded and AVA Turns
As much as possible, try to use rounded and AVA turns while skinning rather than kick turns. If done correctly, they shouldn't take much effort and allow you to keep your cadence going without having to break stride. In the video below, IFMGA Mountain Guides Jeff Ward and Margaret Wheeler explain both turns.
---
Kick Turns
Probably one of the most dreaded turns for folks just starting out is the kick turn. These are turns on slopes too steep to use the rounded or AVA turns. There are three types of commonly used kick turns: Tail Jab Kick Turn, Pole Basket Grab, and Windshield Wiper. By mastering the kick turn, you'll avoid the all too common "V of Doom" and "Tip Dive." In the video below, Margaret Wheeler demonstrates all three types of kick turns and offers some guidance for how to avoid the "V of Doom" and "Tip Dive."
---
Firm Conditions and Improving the Skin Track
In firm conditions, it's important to engage as much of the skins as possible. Folks have a tendency to lean into the slope when side-hilling. This puts you on your edges and makes it much more likely that you slide out. Instead, roll your ankles downhill to engage more of the skin. Though counter-intuitive, it works like a charm. If you're in really firm conditions and this technique isn't working, consider ski crampons.
---
Ski Crampons
When conditions are so firm that no amount of good skinning technique can get you purchase, ski crampons can be applied to give you that purchase.
---
Transitions
Up to Down
Keep Heat In
Though you may be warm, now that you've stopped, zip up coats and put on another layer to keep that warmth in.
Lock Down Your Boots
Tighten things up for the downhill. Remember to go out of walk mode if you have AT boots.
Rip Skins
As a skier, learn to remove your skins without having to get out of your skis. This is much more efficient time-wise and also negates the need to worry about some of the troubleshooting and considerations below that occur when you remove your skis. Fold skins glue-to-glue and put them in your bag or, if temps are cold and you're worried about the glue freezing, put them in your jacket.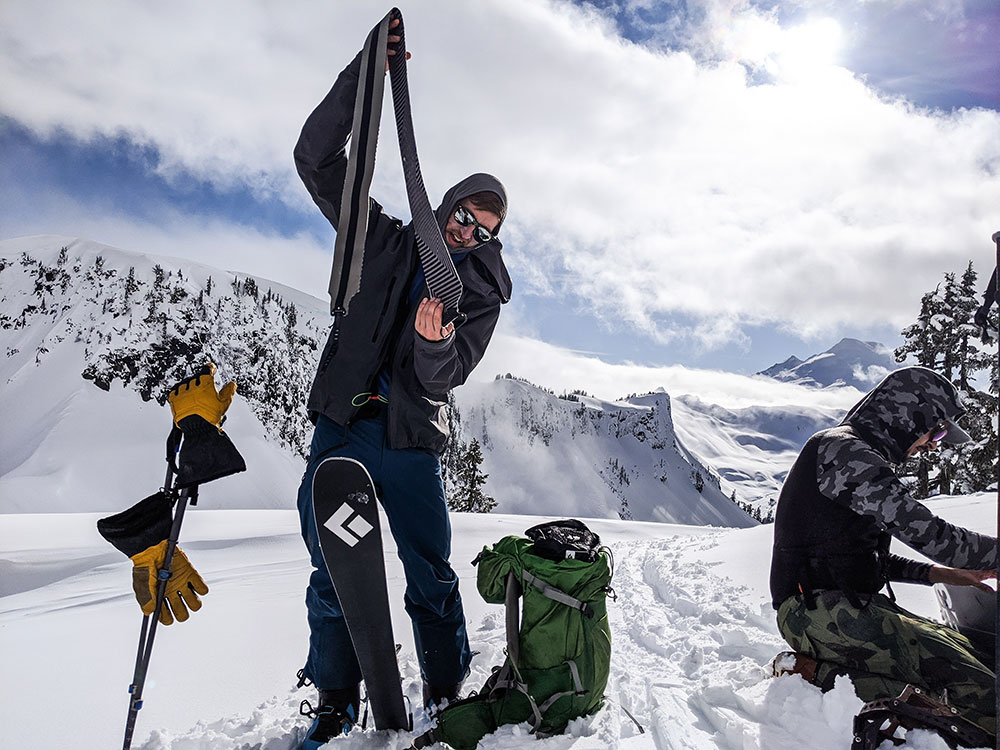 ---
Down to Up
Remove Layers
Now that you're going back up, prepare to get hot again. Take your helmet off and skin in a hat. Put on sunglasses rather than goggles to keep them from fogging up. Also, before totally stripping down, make sure you grab a bite to eat and drink!
Loosen Boots
Loosen your straps for uphill and remember to go back into walk mode.
Re-apply Skins
Make sure there is no snow or ice on the skins before you put them back on. If there is snow/ice, run the glue side along the edge of the ski to scrape it off.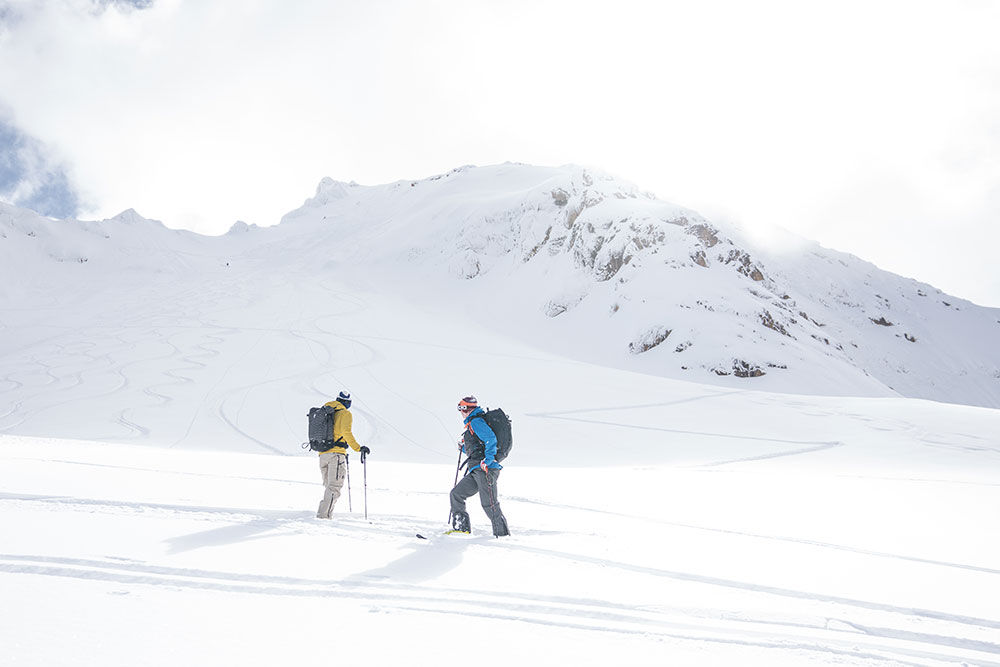 ---
Troubleshooting and Considerations
Snow/Ice in Tech Boots
If you step out of your skis to transition, you may get snow/ice built up in the holes where your pins go on the toe of your boots. By stepping back into the binding and moving your foot up and down a few times, the snow should clear.
Snow/Ice in Binding
It's common for snow to build up underneath the springs on your binding toe pieces, make sure to clear this out by clicking the toe piece up and down multiple times or until clear. If you don't, you might pre-release from the ski.
Below is a fantastic video by Jeff Ward that summarizes transitions well.
---
Next Steps
Getting good at these skills takes time, so go out and practice! If you want more hands on mentorship, our one day Intro to Backcountry Skiing Course is a great way to get affiliated with your gear and get feedback on your technique. You can also learn more online. Check out our Ultimate Guide to Backcountry Skiing for all things backcountry skiing and more content like this.